Shawn Marmion Memorial Crappie Tournament
Online Registration is Closed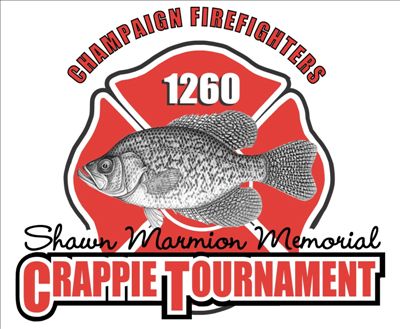 "America's Premier Firefighter Crappie Tournament"
1982-2022
www.champaignlocal1260.com
May 4th, 2022
Lake Shelbyville, Findlay, Illinois
The Champaign Firefighters Local 1260
Shawn Marmion Memorial
"Crappie Tournament"
Dear Friends, you are once again invited to Lake Shelbyville for the 38th annual Champaign Firefighters Local 1260 "Shawn Marmion Memorial Crappie Tournament". Since 1982, firefighter crappie fishermen have been enjoying what has become a Central Illinois Springtime Classic.
Registration and payment can be made at the Eagle Creek Boat Ramp on May 3rd from 5pm-7pm during the Pre-Tournament Steak Dinner or on May 4th (tournament day) beginning at 6:30am.
Purchase bait right at the ramp (limited supply). After a day on the lake, relax and enjoy a great meal and win some great prizes!! I am looking forward to seeing all of you there!!
Dustin Haake—Tournament Director
For information - 217-714-5969
E-Mail – dustin.haake@gmail.com
www.champainglocal1260.com
ALL REGISTRATION QUESTIONS
Email 1260crappietournament@gmail.com
General Information
· Entry Fees- $100.00 per team. $120.00 on tournament day.
· Tournament Start – 8:30 AM
· Late Registration– will be accepted at main launch area.
· Divisions – There is an "Active" division and "Retired" division. At least one fisherman from each team of two must either be an active or retired firefighter from a municipal department or fire protection district.
· Weigh-in– starts at 2:00 PM and deadline is 3:30 PM in the no wake area of official launch area.
· Each Team– Enters their 7 largest Crappie that are 10" or longer.
· Big Fish– Participants must determine their largest fish prior to weigh-in and pin that fish with pin provided for identification.
· Cash Prizes– Awarded to the top finishers in both the active and retired divisions.
· Traveling trophy– will be presented to the department with the greatest cumulative weight of legal size and number crappie. Maximum of 6 teams per department counted towards traveling trophy.
Web Updates – Check our web-site for updates
Rules
· Two divisions—Active and Retired
· Only two persons per boat – one must be a firefighter. A child 12 or under may accompany a team of two and contribute to the teams 7 fish total.
· Late arrivals must check in at the registration area parking lot.
· All teams will be assigned a number
· No fishing prior to tournament start.
· No fishing in Marina Harbors.
· Boats, live wells and coolers may be checked prior to start.
· No passing of fish between boats.
· Artificial and or live bait may be used.
· Fishing from bank is allowed.
Participation in this tournament requires a mandatory signature on a release of liability form at registration per State of Illinois
Entrants hereby release all participating sponsors of this tournament from any loss of property, bodily injury, or loss of life that may occur while participating in the Shawn Marmion Memorial Crappie Tournament.
Thanks to all our Sponsors!
-OR-
Mail registration to:
Local 1260 Crappie Tournament
Attn. Jim Rear
307 S. Randolph St.
Champaign, IL 61820
Registration Form
NAME:
ADDRESS:
PHONE#:
DEPT.& LOCAL#:
E-MAIL:
ACTIVE OR RETIRED DIVISON:
TEAM MATE:
ADDRESS:
E-MAIL:
#OF GUESTS FOR DINNER:
Page Last Updated: Apr 27, 2022 (15:02:28)